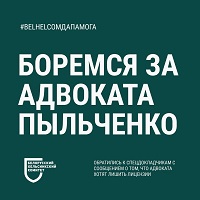 The Belarusian Helsinki Committee and "Viasna" Human Rights Center requested the Special Rapporteur on the Independence of Judges and Lawyers and the Special Rapporteur on the Situation of Human Rights in Belarus to protect Alexander Pylchanka (a lawyer of  Victor Babaryka and Maria Kalesnikava). 
On 7 October 2020, Mr. Pylchanka received a notification from the Ministry of Justice of the Republic of Belarus that on 15 October 2020 a meeting of the Qualification Commission on the Matters of Advocate's activity in the Republic of Belarus would be held to consider the termination of his license to carry out advocate's activity. 
Until 7 October, 2020, the Ministry of Justice made no official claims against Alexander Pylchanka. Mr. Pylchanka received the materials to be considered at the commission meeting for review on 9 October. According to the materials, the claims were based on the interview with Mr. Pylchanka publshed by TUT.BY on 14 August, 2020, in which he expressed his opinion on what actions should be taken by officials of law enforcement agencies and the judiciary in a situation of massive unjustified use of violence and torture against civilians by security officers (numerous reports of such facts appeared in the media in period between 9 and 14 August and in the following months).
In particular, Mr. Pylchanka pointed out that the Prosecutor General was obliged to initiate criminal proceedings based on the reports of torture by police officers in the temporary detention center, as well as to suspend the Minister of Internal Affairs and the head of the detention center. He also stated that the Supreme Court was obliged to discharge resolutions on administrative violation regarding the persons kept in the isolation ward at the days of reported torture use. Moreover, Mr. Pylchanka indicated that in connection with numerous reports of violations of electoral legislation, the Prosecutor General needed to initiate criminal cases for electoral fraud and investigate these cases in collaboration with the Investigative Committee. 
Therefore, termination of advocate's licence of Mr. Pylchanka is solely linked to him publicly expressing his professional opinion on certain legal procedures that needed to be taken, which cannot be seen as an action discrediting the legal profession. This allows to qualify the actions of the Ministry of Justice as persecution of a lawyer for the legitimate exercise of the rights granted by the International Covenant on Civil and Political Rights, namely the right to freedom of expression (Article 19).
Mr. Pylchanka has worked as a lawyer since 1990. Between 2010 and 2012, he was the Head of Minsk City Bar Association. Since 2014 Mr. Pylchanka has been practicing privately. During his professional career, Mr. Pylchanka has earned high trust among colleagues and a well-deserved authority among clients.