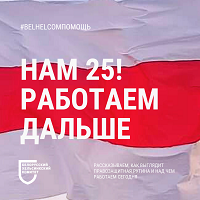 25 years ago — on 1 November, 1995 — the Belarusian Helsinki Committee was registered with the Ministry of Justice. All these years we have been working to ensure that human rights become an important part of game rules in the country.
What does that mean? Not only do we try to protect the rights of a particular person or groups of people, but we also promote rights as a value. It is the right as a value is not felt in everyday life - at least until the legal system collapses or the value of rights is depreciating.
All these years we have tried to "patch up" the holes in our law and law enforcement practice. We have to admit that it takes a great deal of effort.
For example, it took us 5 years to promote amendments to the Criminal Procedure Code granting witnesses their right to a lawyer. Prior to that, the witness's right to a lawyer was not enshrined in the Criminal Procedure Code. Unscrupulous investigators would call witnesses denying them access to lawyers, take statements, and based on these testimonies changed their status to that of a suspect. Once again, the process lasted 5 years.
Here's another example. We have worked for several years to help people who virtually lost pensions due to changed conditions for insurance period - the so-called retirement trap. Due to our effort, the situation has improved for some groups, but in fact there is still so much work to be done…  
What has been done recently
First, now we focus on business and human rights. Business is a major social player that, along with making a profit, has obligations to its employees, customers and communities. But as you can see, many businesses today fail to comply with their human rights obligations. Now we speak about companies of various forms of ownership firing their employees, prosecuting those who attempt to protect their rights, refusing help to their clients and communities (for example, when closing doors on demonstrators during violent crackdowns), etc. All of this is what we are working on: we explain what a human rights standard looks like, tell how relevant corporate practices can be implemented, collect data for international partners (for example, for banks lending to local businesses), and seek ways to "nail" unscrupulous players... By the way, here you find a great guide on business and human rights. 
Second, we actively use international mechanisms to protect human rights and help other initiatives use these mechanisms. Various appeals to Special Rapporteurs, routine reports in the UN system, etc. This is an important work to ensure that the problems of people in Belarus are in the focus of the international community. This information forms the basis of recommendations to the country, resolutions, it somehow affects the distribution of international financial assistance.This is important work helping to maintain the focus of international community on Belarus. This information provides the basis for resolutions and recommendations to the country, which affects the distribution of international financial assistance. 
Third. We help the legal community. We inform international mechanisms for the protection of lawyers. We provide our expert services in the field of human rights.
Finally, together with all our regional representatives, we support the affected people. We advise those who need legal assistance. We also collect data on child victims, and based on this data, our partners provide psychological and other types of assistance.
Today, we wish to say thank you to our families, journalists, partners, clients, members and followers on social media. We could never have done it without you!