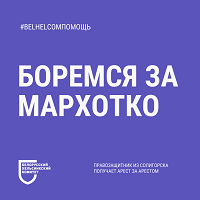 The Belarusian Helsinki Committee requested the Special Rapporteur on the Situation of Human Rights Defenders and the Special Rapporteur on the Situation of Human Rights in Belarus to defend Leanid Markhotka — a human rights defender from Salihorsk.
Leanid Markhotka represents the Belarusian Helsinki Committee in Salihorsk and the Salihorsk region. He worked as a long-term election observer, then advised independent trade unions and local strike committees. 
Mr. Markhotka is one of the founders of Belarusian Independent Trade Union. He was active in the miners' strike movement, engaged in organizing the first miners' march Salihorsk-Minsk, and took part in negotiations with the government in the 1990s. 
Since 28 August, Mr. Markhotka has been held in administrative detention for up to 30 days (upd. as at 15 October). Mr. Markhotka is repeatedly sentenced to administrative arrest despite him having chronic diseases and his age of 67.
We consider administrative persecution of Leanid Markhotka to be a punishment for carrying out peaceful human rights advocacy.