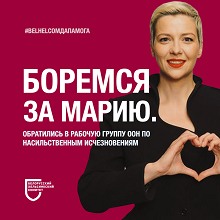 The Belarusian Helsinki Committee has sent a report to the UN Working Group on Enforced or Involuntary Disappearances on the situation with the abduction of Maria Kalesnikava.
Under the mandate of the Working Group on Enforced or Involuntary Disappearances, it receives, reviews and forwards to the UN States reports of enforced disappearances submitted by the relatives of missing persons or human rights organizations representing their interests. The Working Group requests the States to investigate cases and notify the Working Group of the results. We hope that the submitted statement will allow us to quickly get to know what happened to Maria Kalesnikava and stop the practice of enforced disappearances of opponents of the current government.
At the same time, we urge the Belarusian authorities to report Maria Kolesnikova's whereabouts and, if detained, to release her immediately and fully ensure her right to protection and other procedural guarantees under the international treaties of the Republic of Belarus and national law.
Let us recall that on September 7 around 10:05 near the National Art Museum in Minsk Maria Kalesnikava was kidnapped by a group of unknown people in civilian clothes and taken away presumably on the blue minibus "Sobol" with an inscription "Communications". There was no information about her whereabouts throughout the day, despite the appeals from her lawyer and colleagues to the law enforcement agency. On the morning of September 8, the State Border Committee of the Republic of Belarus announced that Maria was at the border crossing between Belarus and Ukraine.
We believe that her abduction is clearly and directly related to her expression of her political views, participation in political activities and the election campaign, in peaceful assemblies and the exercise of the right to freedom of association (participation in the Coordinating Council).
Photo: Kanaplev Leydik