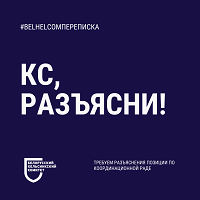 Belarusian Helsinki Committee appealed to the chairman of the Constitutional Court.
We recall that the full bench of the Constitutional Court of the Republic of Belarus adopted a document entitled "Constitutional and legal position on the protection of the Constitutional Order". Through this action the Constitutional Court pointed out the unconstitutionality of the recently established Coordination Council.
In this way, under Article 116 of the Constitution, the Constitutional Court is empowered to monitor the constitutionality of normative instruments. The analysis of legal documents regulating the operations of the Constitutional Court and its working procedures leads to the conclusion that it is not competent to monitor constitutionality of public structures established and working in Belarus.
We expect the Constitutional Court as a check-and-balance mechanism establishing fundamental approaches to the observance of the requirements of the Constitution on ensuring democracy, the rule of law and the right to judicial protection, to provide a more detailed legal explanation and use competent and professional approach in substantiating the document and its specific points. In light of the above, we ask the Constitutional Court of the Republic of Belarus:
1) to provide clarifications on the legislative basis, adoption procedure, and the type of document adopted by the Constitutional Court expressing the "constitutional and legal position on the protection of the constitutional order", as well as the legal consequences of its adoption;
2) to report on the measures taken by the Constitutional Court within its competence to ensure the full implementation of constitutional human rights and freedoms in electoral process.