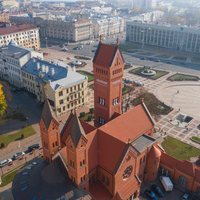 The Belarusian Helsinki Committee sent a communication to the UN Special Rapporteurs on freedom of religion or belief, on the situation of human rights in Belarus and on minority issues with information about human rights violations, in particular, the right of Catholics to manifest their religion, and the right to cultural life and the right to health of general public, in connection with the closure of the Red Church.
In our report we pointed out that the denial of access to the Red Church to the Catholic community was a continuation of the practice of violations of the rights of Catholics in Belarus, as there had already been politically motivated persecution, infringement and restriction of religious traditions and customs. We highlighted that aforementioned state's actions constitute structural discrimination against Catholics in Belarus.
We noted that such practices are taking place, including for the public position of the Catholic community in Belarus against the acts of violence after the presidential elections of 2020, against the act of aggression, which is condemned by the international community. This practice also badly affects other groups, violating their right to health, the right to take part in cultural life.
Despite the fact that the authorities restricted access to the building of the Red Church, which is of historical and cultural value to Belarusians, the case of the fire of the Red Church has been de facto dismissed.
We stressed that the Catholic Church in Belarus has still not been allowed by the authorities to be housed in another building in time, which continues to prevent Catholics from freely practicing their religion.