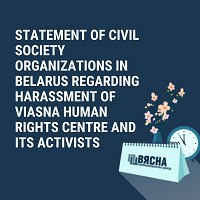 As we have learned, the General Directorate for Investigation of Offences related to Organized Crime and Corruption of the Central Bureau of the Investigative Committee of the Republic of Belarus has initiated criminal proceedings against the Human Rights Center "Viasna" based on its activities[1].
This criminal case was brought under Art. 342 of the Criminal Code (Organization and active participation in group actions that grossly violate public order). In this case, active investigative actions are currently being carried out, including searches in the regional offices and apartments of the organization members, summons for interrogations and other procedural actions. Dmitry Solovyov, a Council member of the Human Rights Center "Viasna", is a suspect in this case and is under a travel ban. The list of persecuted human rights defenders is apparently open. 
As shown in the official comments of the Investigative Committee, Viasna is suspected of financing and providing other material support for illegal mass events aimed at group actions grossly violating public order. 
We find this accusation absolutely far-fetched and unfounded, and believe the attack on the Viasna Human Rights Center to be a politically motivated persecution aimed at combating the organization's activities, intimidating other civil society organizations, and perpetrating a social climate of fear. 
Viasna is one of the oldest human rights organizations in Belarus, established to help persons subjected to repression that began in the spring of 1996 and continues in some form up to the present time. Since its inception, Viasna has helped tens of thousands of Belarusian citizens, has been involved throughout its history in the protection and promotion of human rights, and has continuously monitored their observance. The work of Viasna is highly appreciated both domestically and internationally. Over the years, Viasna and its members have been awarded numerous prestigious prizes in the field of human rights. 
In their work, Viasna and its activists have repeatedly been targeted for repression and persecution. In 2001, the centre's state registration was cancelled. The Human Rights Committee found this decision to be a violation of the right to freedom of association. In 2011, Ales Bialiatski, the head of Viasna, was sentenced to four and a half years in prison for receiving foreign assistance for the organization's human rights activities. 
We, human rights and other civil society organizations in Belarus, express our solidarity with the HRC "Viasna" and its activities, fully support the Statement of the Viasna Council, and regard the criminal prosecution of its members solely as prosecution for active human rights work. 
The persecution of Viasna and its activists is a violation of the international obligations of the Republic of Belarus, namely the International Covenant on Civil and Political Rights, Declaration on the Right and Responsibility of Individuals, Groups and Organs of Society to Promote and Protect Universally Recognized Human Rights and Fundamental Freedoms, OSCE Guidelines on the Protection of Human Rights Defenders, and Guiding Principles on Freedom of Association и других.
We strongly protest the persecution of our fellow human rights defenders and pressure on the Belarusian civil society, and once again demand that the Belarusian authorities:
Cease the harassment, arrests and other pressure on human rights defenders and civil society activists in connection with their legitimate activities aimed, inter alia, at providing legal, charitable and other assistance to victims of human rights violations.

Cease immediately the criminal persecution of the Human Rights Center "Viasna" and its members.

Immediately release the Viasna human rights defenders and volunteers Marfa Rabkova, Andrey Chepyuk, Leonid Sudalenka and Tatiana Lasitsa, as well as hundreds of other political prisoners, from detention.

Ensure non-interference in lawful human rights activities, stop the defamation campaign against human rights defenders and civil society activists.
We call on international organizations and institutions to publicly speak out about the persecution of Belarusian human rights defenders, namely the Viasna members, as well as to use all possible means to influence the current situation.
We also call on international human rights organizations for active solidarity with the persecuted Belarusian colleagues. 
Civil society organizations[2]:
Lawtrend Center for Legal Transformation  
Belarusian Helsinki Committee 
Belarusian Association of Journalists 
Assembly of Non-Governmental Democratic Organizations of Belarus 
Legal Initiative
FORB Initiative 
---
[2] The statement is open for signature