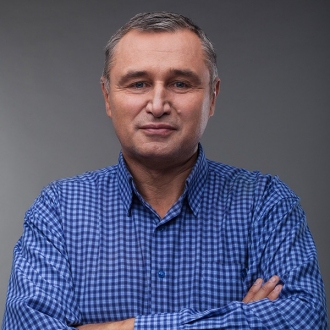 BHC representative in Vitebsk and the region
In 1987 graduated from All-USSR polytechnic institute in Moscow (correspondence courses).
From 1983 to 2001 held different staff offices in the Military Forces. In 2001 was dismissed from the Military Forces for declaring in court against the Minister of defense.
Active participant of electoral campaigns of all levels. In 2001 observer on the presidential elections, in 2004 head of unregistered initiative group of the deputy Parliament candidate Valery Shchukin, in 2006 organizer of long-term president elections observation and republican referendum observation, in 2007 planned to run for candidacy in Vitebsk region and the city Soviet of deputies of the 25-th convocation (was not registered for political reasons, went through all the stages of appeals), in 2008 coordinator of long-term observation of the elections to the Chamber of Representatives of the National Assembly of the Republic of Belarus of the 4-th convocation.
In 2007 got education within the program of international law of human rights, organized by the Chain of Houses oh Human Rights.
Participant of hundreds of cases, social activities on the protection of the rights and freedoms of citizens, who became victims of repressions and lawlessness of the authorities.
For his activities repeatedly suffered persecution from the authorities, namely got administrative fines and arrests. Went on 2-, 11- and 14-days hunger strikes as a protest.  
In BHC since 2000.
Contacts:
tel.: (029) 350-57-76